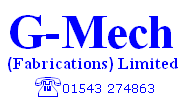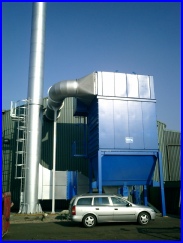 G-Mech (Fabrications) Ltd was formed in 2001 by Michael Job and Jason Stokes. Having spent our entire working lives in the trade, totaling some 70 years, we sought to offer our extensive experience in the manufacture of high quality products to the manufacturing industry and individual clients.
8
Having grown steadily over the last seven years, we have established an enviable reputation as a key supplier to many of our customers.
8
Working from hand drawn sketches or detailed engineering drawings, G-Mech gives the same enthusiastic approach to each job regardless of size or quantity.
G – Mech offer services that include:
• On site meetings to discuss your requirements
• Free full & competitive quotes
• Assistance with design
• Full in house manufacture
• Single prototype items or large batches
• Arrangements of paint or galvanised finishes
• Arrangements for transportation
We pride ourselves on not only producing quality work at competitive prices, but on our successful record of meeting required delivery dates.